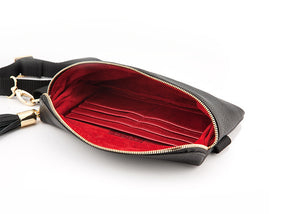 ANTHONY BELT BAG
AYDA&CO's belt bags are timeless pieces that keep your valuables secure and your hands free. A belt bag allows for an on-the-go lifestyle. In addition to making traveling easy and effortless, these bags can also be used regularly in an effort to keep all of your essentials with you at all times. The runway styles can be worn at the hip or dropped into the Collection Tote. This is the ultimate solution to relaxed chic...


Details:
    •    MADE IN LA
    •    100% leather
    •    Adjustable nylon webbing belt
    •    gold tone details
    •    Fully lined in premium red suede
    •    Internal wallet in red Italian leather
    •    Opening 12.5" zipper
    •    7" Tassel detail
Size And Fit:
    •    Height  7"
    •    Width 10"
    •    Depth 1"
    •    Minimum strap length 21"
    •    Maximum strap length 35"